From 22 to 26 June 2020 the best products of the year are celebrated as part of the Red Dot Design Award Week. Participants from 60 countries entered a record number of more than 6,500 products in this year's Red Dot Award. Just 76 entries – 1.2% of the products submitted – received the highest distinction in the competition, the Red Dot: Best of the Best.
Last year, our Amelie collection won this prestigious award, and now we at Eumar Design raised the stakes and doubled the success.
This year, 2 of our collections- Portal & Pebble are among Red Dot Winners 2020.
portal-Red dot winner 2020
Portal is an elegant floating washbasin set in a gigantic round mirror with extravagant and inviting illumination. The end product is a design that looks like a portal to another dimension, inviting the on looker to step through and forget everything they know about bathroom design. 
Perfect for cruise ships, hotel lobbies, administrative buildings, shopping malls, restaurants, and nightclubs, the #eumarportal is truly one of a kind. 
For more information about Portal, click here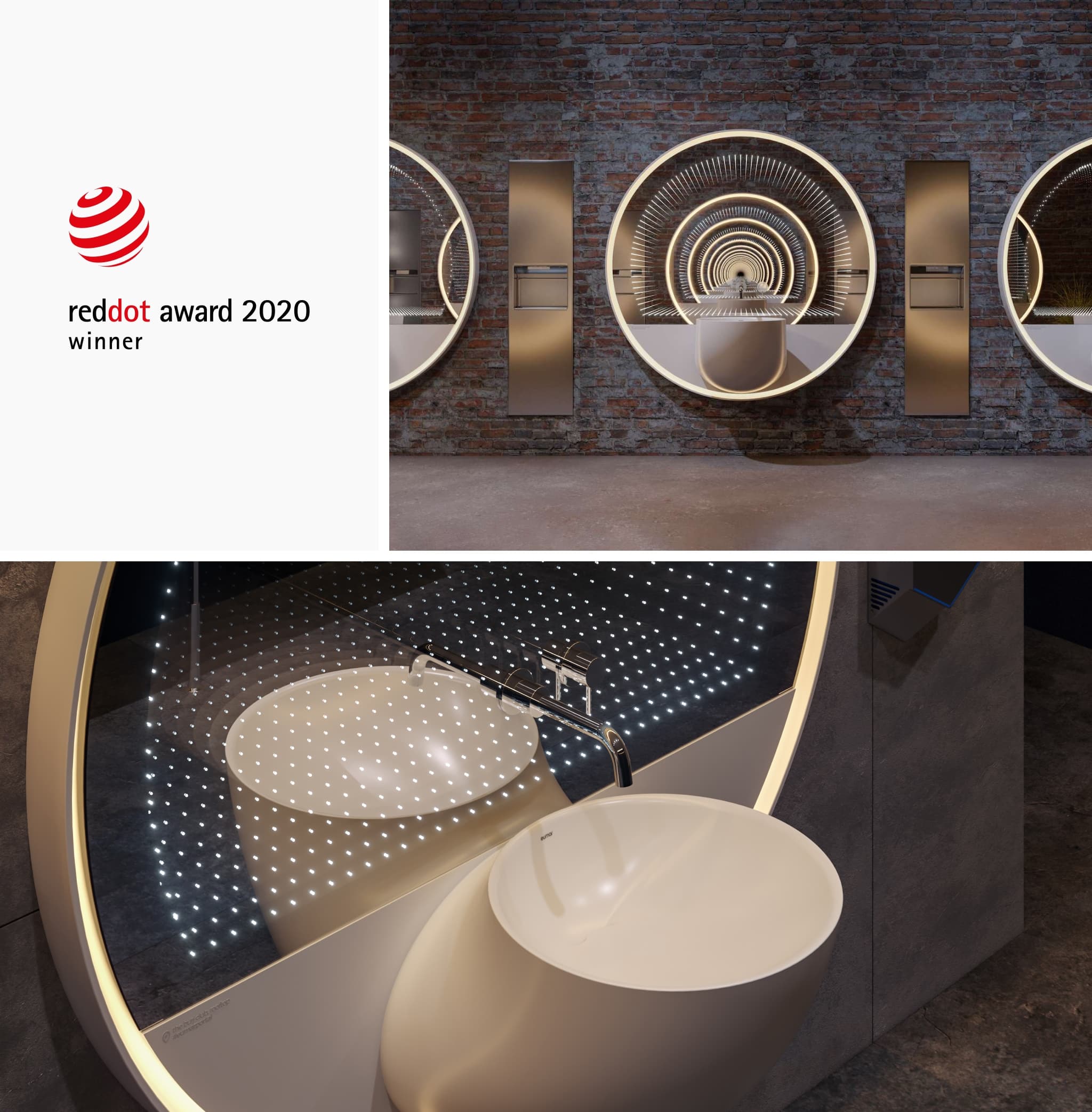 The design of Portal frees itself from the purposefulness of washbasins and creates a distinctive aesthetic that promotes a new functionality of this type of product.


statement from the Jury
Pebble-red dot winner 2020
an impressive example of bound-breaking spatial design in the bathroom
The Pebble collection is a perfect solution for bathrooms with very limited space. A marriage between contemporary style and functional design, Pebble dazes with its clear and sophisticated, almost minimalist beauty while its excellent integration makes it as compact as needed to conform to the constraints of tiny spaces.
Starting from its compact yet comfortable corner shower and finishing with the storage underneath the washbasin, Pebble's design creates a sense of roominess unexpected from such a small space.
The super compact and ultra stylish basin showcases our commitment to innovative design. The faucet boasts a stunning modern look while the drain of the basin is hidden under an elegant cover, producing a captivating visual effect when water is running over the smooth carved composite stone surface.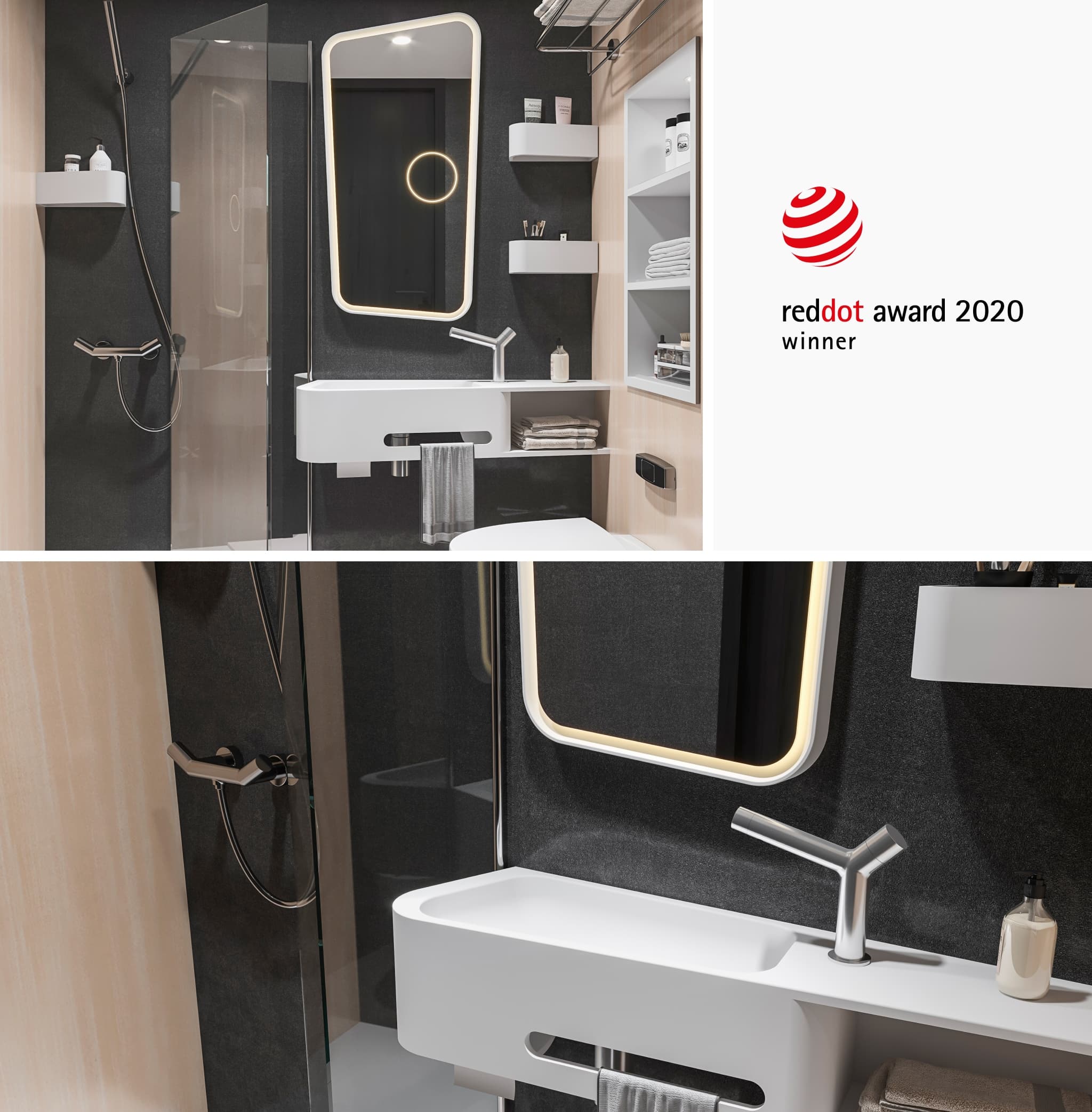 sophisticated in every detail, the concept of the pebble bathroom collection proves that aesthetic quality and space-saving design do not have to be mutually exclusive.

statement from the jury
Any accomplishment is the result of hard teamwork, strong dedication, and passion and deserves an awesome celebration!

Two Red Dot Design Award's this year is a perfect inspiration for us to continue to push boundaries of what is possible.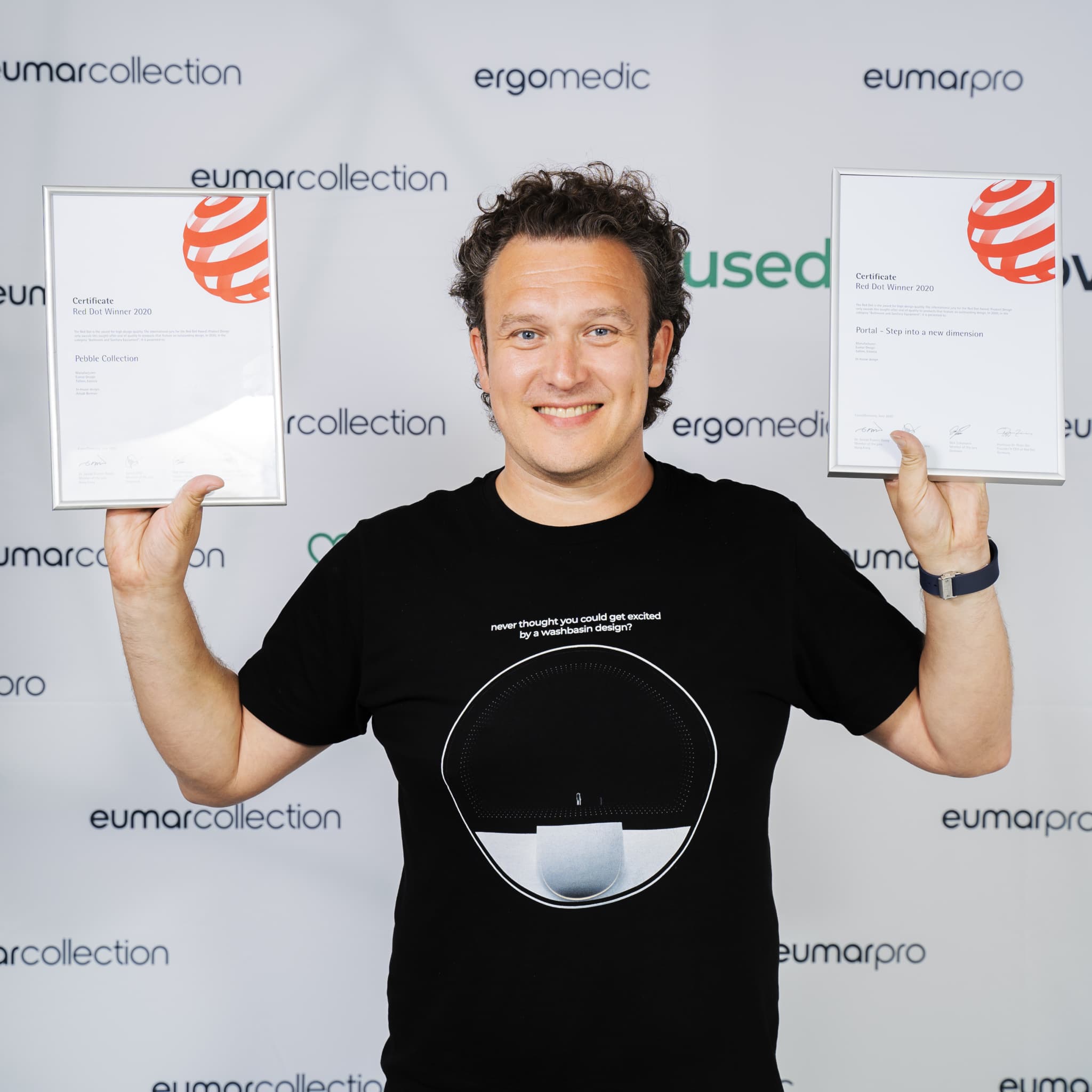 Red Dot stands for belonging to the best in design and business. International design competition, the "Red Dot Design Award", is aimed at all those who would like to distinguish their business activities through design. The distinction is based on the principle of selection and presentation. Excellent design is selected by competent expert juries in the areas of product design, communication design, and design concepts.