We are always happy to participate in projects from close to our home, Nordic Hotel Forum is a modern four-star superior business and conference hotel in the very heart of Tallinn, at a prominent location on the edge of the picturesque Tallinn Old Town, a UNESCO World Heritage site.
Right now Nordic Hotel Forum is undergoing a major renovation to ensure that future visits for the guests would be even more enjoyable. During the renovation process, 267 hotel rooms and all the common areas will be renewed. The interior will be changed and the hotel will get a representative suite and a new restaurant.  We at Eumar are glad to be a part of the process and help the hotel ensure a refreshing and modern interior once the planned renovation will be over in the spring of 2021.
the partnership with eumar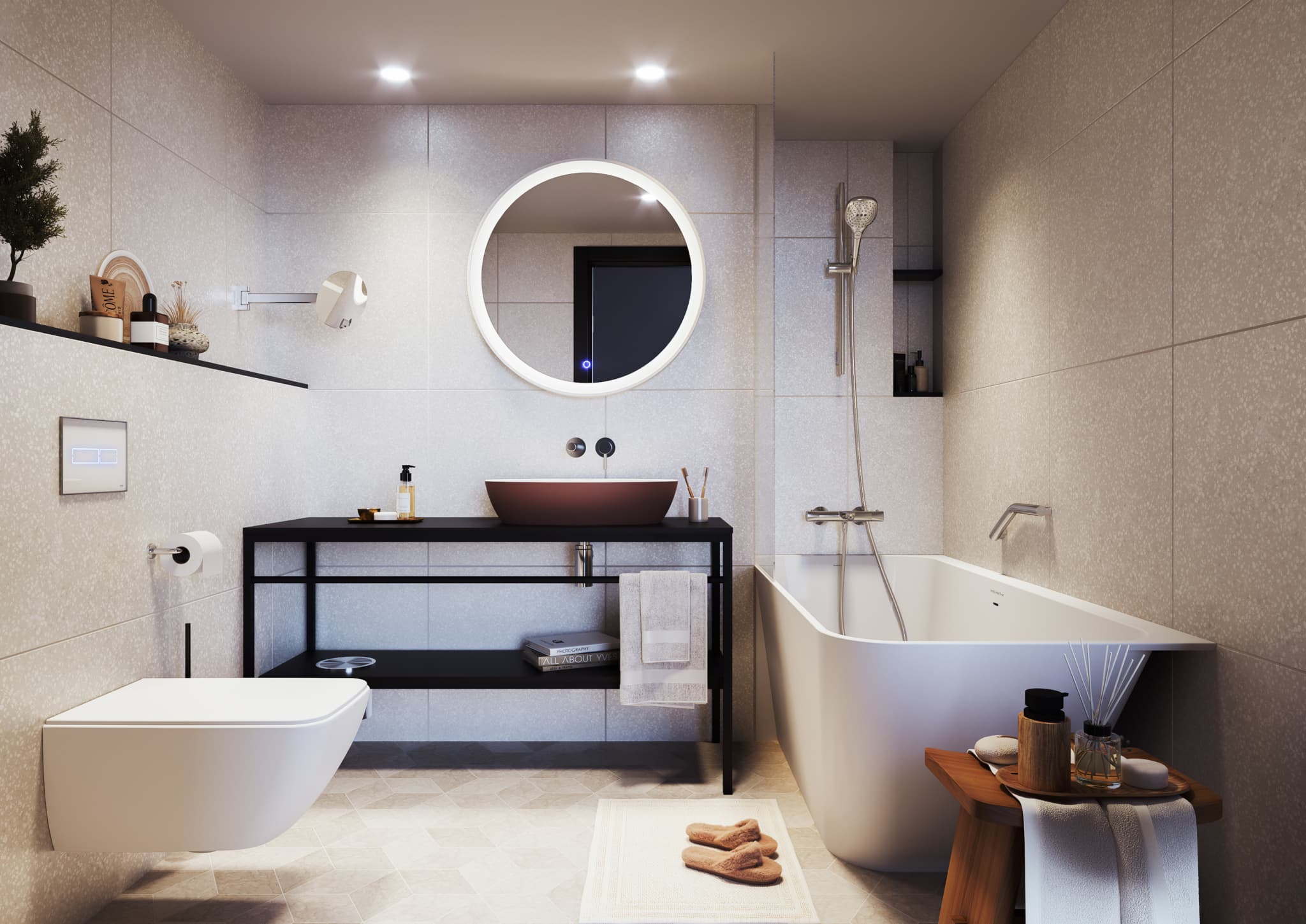 This whole bathroom is a true jewel, but we would like to pay your attention to our new version of Tondo mirror and absolutely new bathtub Madeira which was specially developed for the needs of the project. 
Tondo mirror
Tondo mirror has now an infrared switch, the very innovative dual-LED system for day & night lights. 
Mirror Heating Pad is a clear advantage in your bathroom. … Once fitted, the mirror will never steam up.
Madeira bathtub
Eumar has designed and developed the bathtub Madeira based on the layout, needs, and requirements of Nordic Hotel Forum. Yes, such a personalized service, together with the client. It was a fantastic experience.
Madeira bathtub is a stunning piece of luxury, it has a smart and very efficient shape. It suits a variety of installation situations, for self-standing versions or against the back wall, left or right corner, or even niche installation.
We are glad to ensure that the client's satisfaction rate is 101% as the hotel's owner personally called us and ordered one bathtub for his home. The construction company manager also said that he fell in love with the design and would be happy to have an offer for his home as well.
Arkadi Berman, CEO of Eumar Design says:  "I think this is the best possible feedback. What a great feeling when you feel your work is so much appreciated. We are passionately addicted and I am sure that touch the hearts of our customers. We are like your personal couture tailor. We develop award-winning bathroom design products and through our product we add stars to the entire property of our customer, increasing customer ROI at least 2 times!"
Of course, we can't forget that the whole renovation project wouldn't be possible without interior design bureau ArtAku and interior designers Kaire Kemp-Tišler and Ea Andla. Merko Ehitus Eesti is responsible for the building process. Property owner is leading real estate developer Kapitel.
Each of our baths is crafted from a unique material CreaCore® or GelCeramic ®. Unlike solid stone or cast iron, our materials feel warm to the touch and offer exceptional heat insulation and scratch-resistant properties. These are lifetime investments.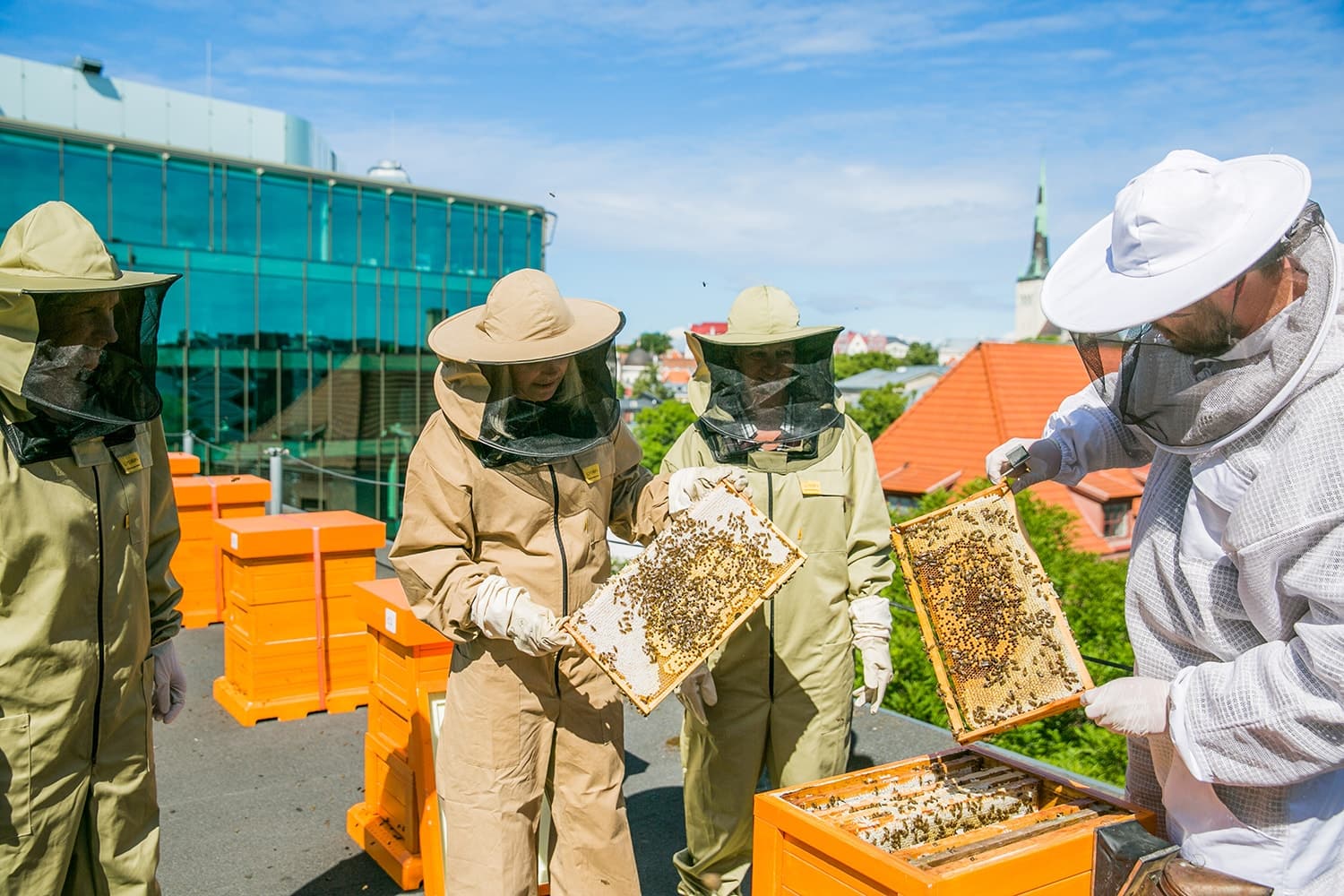 Eumar is admiring their client as they are the first hotel in Tallinn to lead the way in urban beekeeping in the heart of Tallinn! Bees are one of nature's wonders and as a Green Key hotel, Nordic Hotel Forum has 6 beautiful bee hives with over 360,000 bees on their rooftop. What's the best part of this? The bees have Tammsaare Park, Kadrioru Park, and all other green areas around Tallinn.
The hotel also has a webcam on the roof where you can observe the bees busily gathering honey. Enjoy the live stream with a view of the hives and Tallinn's picturesque Old Town, a UNESCO World Heritage site in the background.
Interested in
learning more about our experience


and seeing our portfolio?