The Hotel Palace has been a landmark in Tallinn, Estonia for the last 80 years, and with bathrooms designed by Eumar, it is set to remain one of the city's leading hotels.
The hotel was constructed in 1937 according to a design by Elmar Lohk, and was one of the most exciting, glamorous and spectacular buildings of its time. In the 80 years since, it has undergone many refurbishments, with the last major one taking place in 2014. 
The hotel is situated on Tallinn's Freedom Square, or as the locals call it, Vabaduse väljak. Its central location has seen it remain one of the Estonian capital's most popular venues through the years, and in 2019 the World Travel Awards™ named it Estonia's Leading Hotel.
Such a prestigious and historical building requires only the best in fitments and furnishings, and when the time came to modernize the bathrooms, Eumar answered the call.
Eumar's OVO collection - fit for a palace
All bathrooms in the Hotel Palace were fitted with items from Eumar's OVO collection, a harmonious balance of shape and form that combines modern elegance with traditional beauty. Based on a fusion of a trilogy of geometries – round, oval and rectangular – the collection achieves a spectacular balance between form and functionality.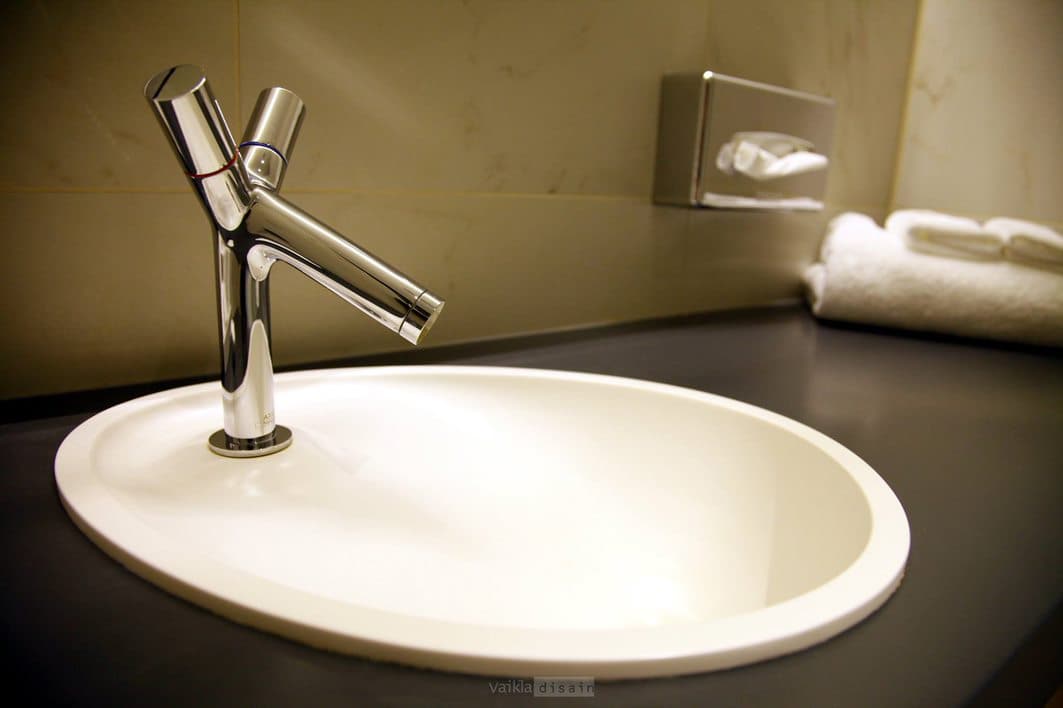 The thin rectangular shape of the console system and parallel wall-mounted shelves act as a counterpoint to the rounded mirrors and the oval shower, washbasins and bathtub. The sleek, seamless and seemingly, organic forms are created using our unique Creacore casting method.
The feeling created by this unique and bold interplay of geometries is one of space, tranquillity and luxury. The beautiful, round Tondo mirrors feature an LED strip that provides gentle backlighting and contributes to the overall inviting quality of the bathroom. The design basically says: "Let go of stress and luxuriate in your happy place."
If you're ever in Tallinn and want to experience a Eumar bathroom for yourself, we suggest you book a room at the Hotel Palace. It will be an unforgettable experience.
Architect: Katrin ja Argo Vaikla / Vaikla Disain